FBS-18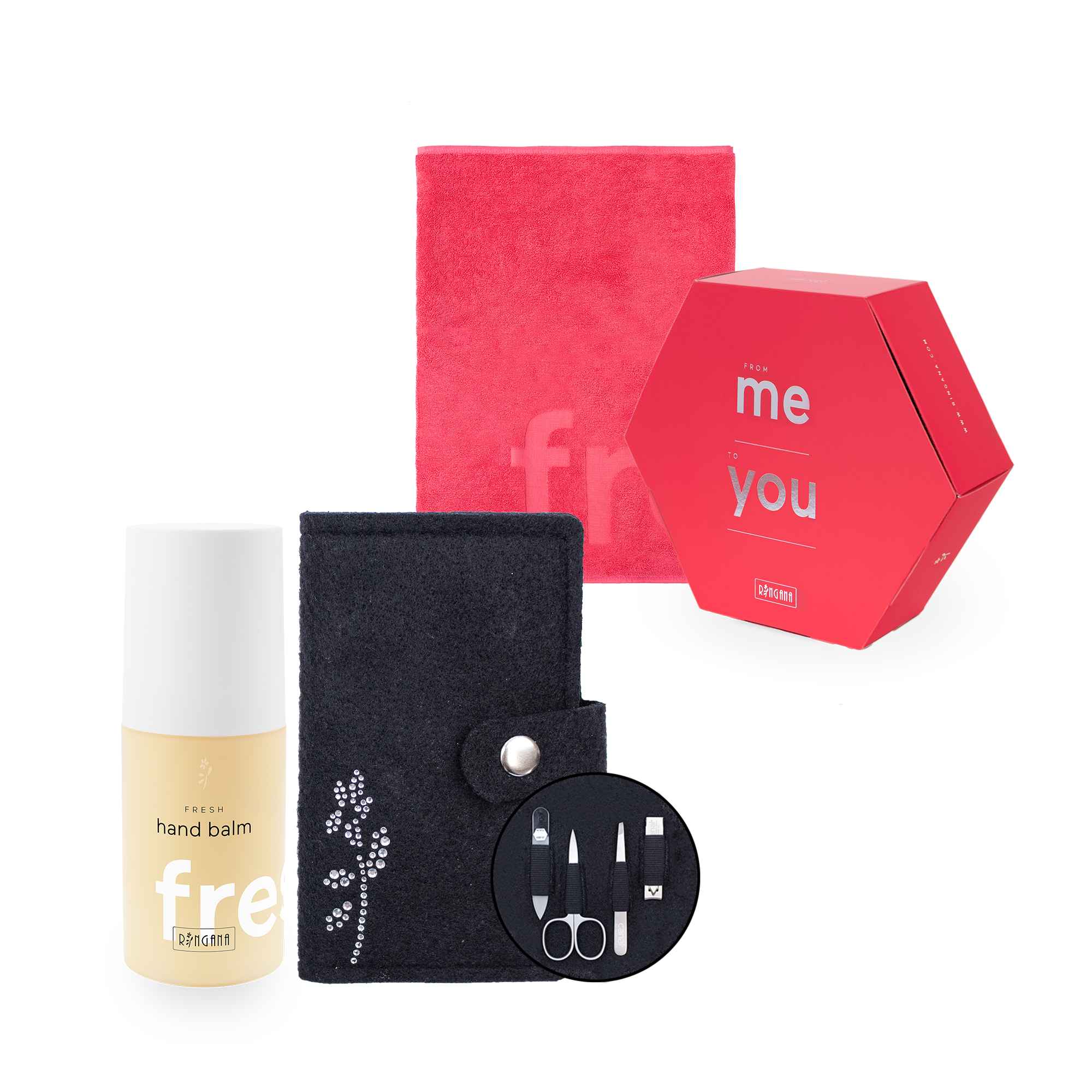 FRESH beauty set
For beautifully groomed hands and nails.
xx ML – xxxx €
incl. VAT Shipping costs
€ xx pro xx ml
Price for first-time order xxx
Not only the ideal, high-end Christmas present for others, the FRESH beauty set is the perfect treat for yourself too. The intensively nourishing FRESH hand balm cares for and protects your hands and nails. This RINGANA classic is superbly complemented by a manicure set with best-quality instruments (nail scissors, tweezers, tempered glass file and nail clippers in a protective felt case). Packaged in a festive gift box incl. a limited edition RINGANA organic cotton hand towel – both in our Christmas red – the FRESH beauty set will look gorgeous under any Christmas tree.
Lieferbar in 1-5 Tagen
Good to know
Treat yourself more often to a special kind of hand care. Exfoliating with our FRESH scrub will make your hands velvety smooth. Apply the scrub all over the backs of your hands and the inner sides of your fingers. Then rinse your hands thoroughly and dry them well.
Our intensively nurturing FRESH hand balm cares for and protects hands and nails. It soothes and regenerates the skin and restores elasticity. Dry hands are given a long-lasting supply of nourishing substances, making them feel soft and supple again.
The case for the manicure set has been specially manufactured and is made of 100% recycled felt. It features an embroidered RINGANA logo and the RINGANA flower made of rhinestones. This limited edition set, made specially for RINGANA, has been produced by the non-profit organisation Lebenshilfe Vorarlberg. The set contains the best-quality Canal instruments made of stainless surgical steel. Perfect functionality and classic design are the key features of the nail scissors, tweezers, tempered glass file and nail clippers.
Detailed information about the instruments:
Nail scissors, curved, 95 mm
stainless steel, high material hardness
perfectly finished blades, so no ragged nails
can be sharpened,
Tweezers, satin finish, 95 mm
perfectly ground tips
stainless steel and high material hardness
robust and can be sharpened
perfect, ergonomic shape and precise closure
retain their flexibility and tension for years
Tempered glass file, 80 mm
beautiful looking and high quality
thanks to the specially tempered glass, it can go on filing for a lifetime
nail is sealed when filed
a smooth nail edge is produced and the nail does not splinter
Nail clippers, 60 mm
stainless steel
integrated file and manicure instrument for removing dirt from under the nails
extremely flat because the clippers are foldable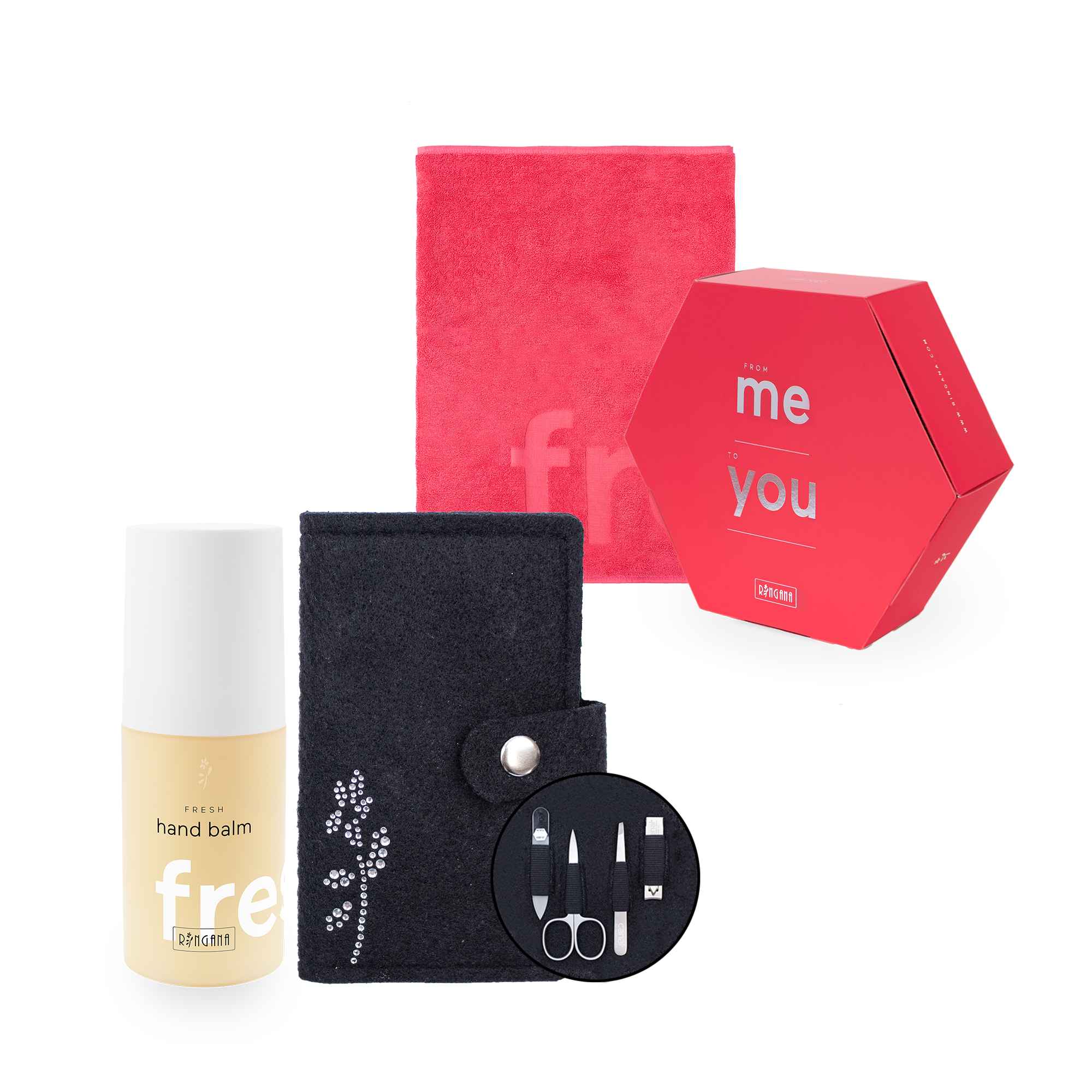 Aloe barbadensis leaf juice* (fresh aloe vera gel), Macadamia ternifolia seed oil* (macadamia nut oil), aqua (water), squalanes (olive squalane), xylitol (birch sugar), Bellis perennis flower extract* (daisy extract), Simmondsia chinensis seed oil* (jojoba oil), cetearyl olivate (microcell emulsifier from olives), sorbitan olivate (microcell emulsifier from olives), Aleurites moluccanus seed oil* (intensively nurturing candlenut oil), Sambucus nigra fruit extract (antioxidant elderberry extract), Salix alba bark extract (skin-regenerating willow bark extract), hydrolysed jojoba esters (jojoba oil component), tocopheryl acetate (natural vitamin E acetate), Calendula officinalis flower extract* (marigold extract), Vaccinium macrocarpon seed oil* (antioxidant, cell-rejuvenating cranberry seed oil), Salvia hispanica seed extract* (chia seed oil), Rubus idaeus seed extract (skin-nourishing raspberry seed oil), Amaranthus caudatus seed extract* (powerful, antioxidant love-lies-bleeding oil), Calophyllum inophyllum seed oil* (cell-regenerating tamanu oil), Triticum vulgare gluten extract (wheat ceramides), Plukenetia volubilis seed oil* (cell-regenerating sacha inchi oil), Borago officinalis seed oil* (borage oil), lecithin (plant-derived membrane component), tocopherol (vitamin E), Prunus persica bud extract* (moisturising peach tree bud extract), Prunus cerasus bud extract* (skin-nurturing cherry tree bud extract), Fagus sylvatica bud extract* (invigorating beech tree bud extract), Vitis vinifera bud extract* (protective grapevine bud extract), Rosmarinus officinalis leaf extract (skin-regenerating rosemary extract), Helianthus annuus seed oil (sunflower oil), hydrolysed tomato skin (tomato skin extract with anti-ageing properties), hydrolysed grape skin (grape skin extract with skin-protecting, cell-rejuvenating properties), hydrolysed walnut extract (nurturing walnut extract), hydrolysed olive fruit (antioxidant olive fruit extract), palmitic acid, citric acid, glycerin (plant-derived moisturising agent), arginine (moisturising amino acid), cellulose (for silky smooth skin), Xanthan gum (natural thickening agent), galactaric acid (antioxidant from pectins), dipalmitoyl hydroxyproline (plant-derived amino acid component with effective anti-wrinkle properties), Elaeis guineensis fruit extract (natural tocopherols and tocotrienols), phenethyl alcohol (rose alcohol), limonene°, citral°
* Ingredients from controlled organic cultivation | ° Component of natural essential oils | 100% natural ingredients | 78.7% of all ingredients from controlled organic cultivation | 96.1% of plant-based ingredients from controlled organic cultivation | Natural and organic cosmetic product certified by Ecocert Greenlife in accordance with the Ecocert Standard, standard available at http://cosmetics.ecocert.com
EBV 6.0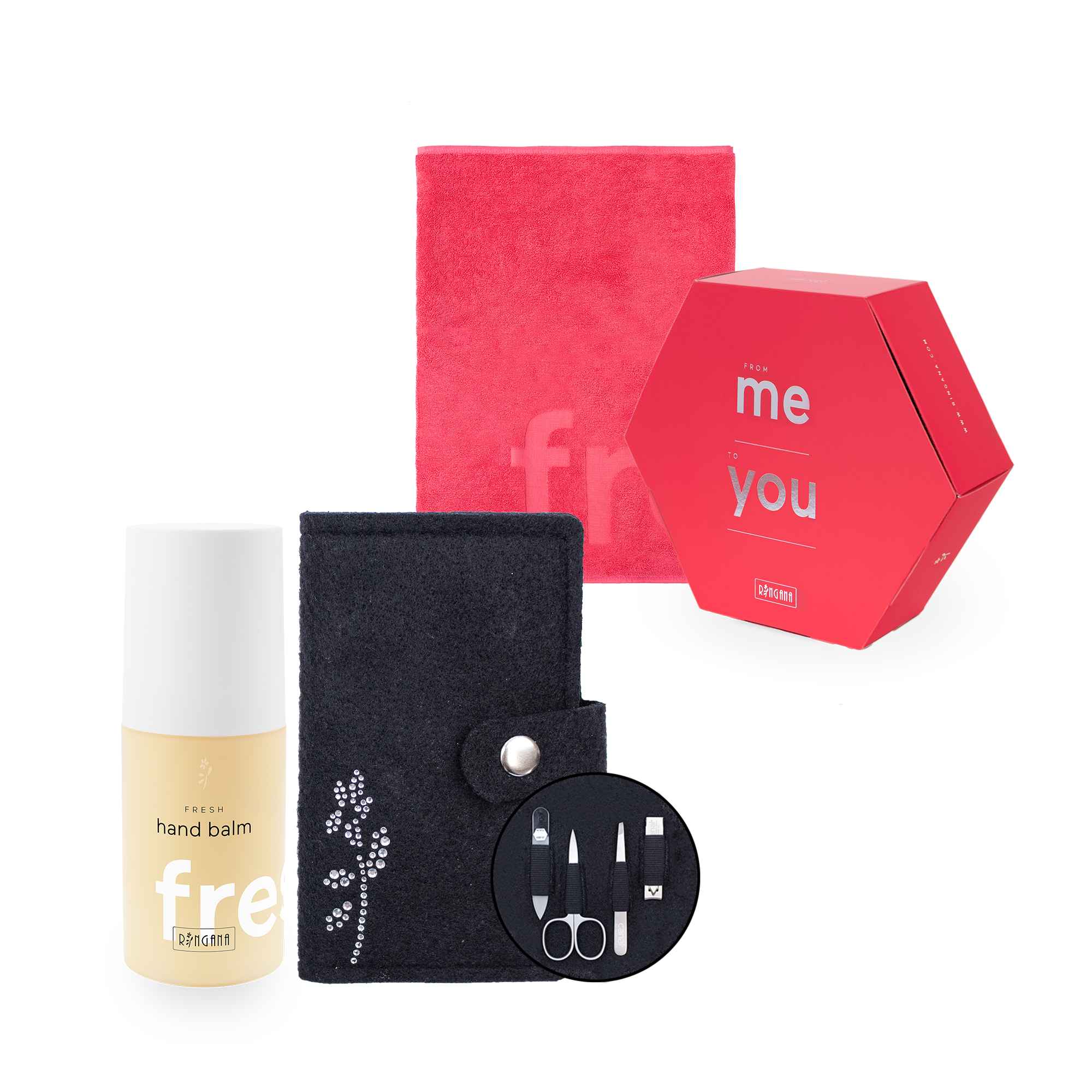 The care formulation contains valuable seed oils from chia, cranberry, raspberry and amaranth, as well as high-quality bud extracts with a super smoothing effect. Marigold flower extract and aloe vera pamper dry hands. A special substance from daisies helps to lighten pigment spots.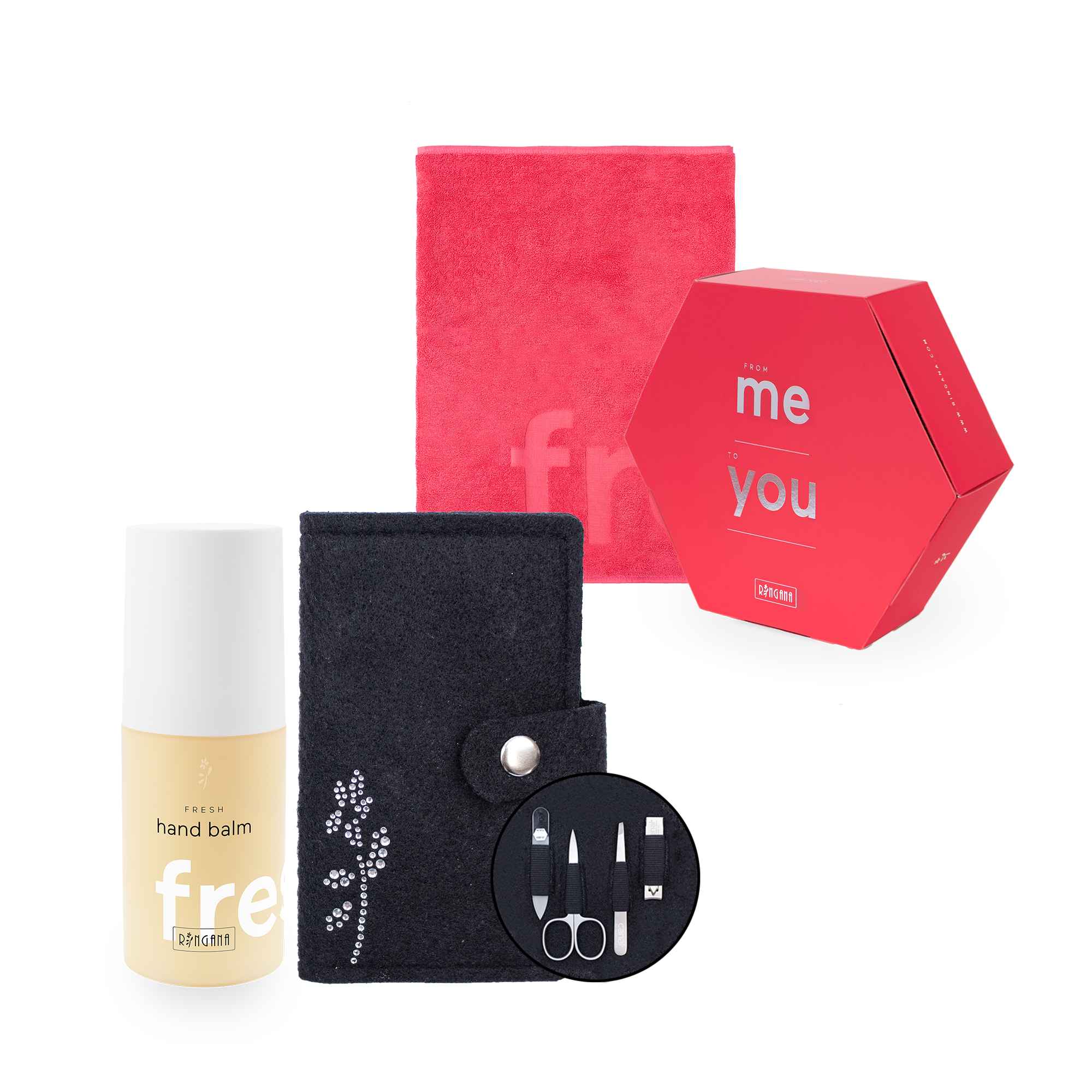 Every time you wash your hands, massage in FRESH hand balm from fingertips to wrist.